The Society for Creative Anachronism (S.C.A.) is an international non-profit organization dedicated to re-creating the best of the Medieval and Renaissance eras (c.400-c.1600). Members study and enjoy various arts and sciences, such as history, culture, music, dance, mock combat, archery, armoring, heraldry, embroidery, costuming, calligraphy, food & drink, etc. If this sounds interesting to you, you are welcome to join our group. People of all ages and cultures belong to the S.C.A., from people who show up for the occasional feast, to people who attend meetings & practices weekly.
We are the Brooklyn area chapter of the S.C.A. located within the Crown Province of Ostgardr covering New York City and the counties of Nassau, Westchester and Putnam.
Subscribe to the Brokenbridge Mailing List here.
New to the SCA? The Newcomer's Portal can answer your questions!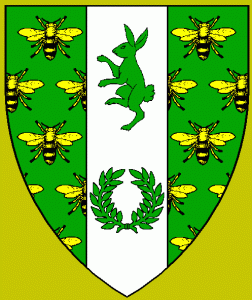 Brokenbridge heraldry:
Vert, a semi of bees volant proper and on a pale argent, a conie rampant and a laurel wreath vert.